Hi. My name is Alan Toribio and I am a guitarist based out of Portland, Oregon. I've been playing in various bands around the area for thirty-odd years. This site is meant to let people know a little about me and the bands I play with and when I'm playing. (I'll try to keep the calendar updated!) I'll also put up some of the posters I've made, just for the hell of it. And whateverthehell else I feel like posting. We'll see...
I've been playing music with these gents in various bands for decades. Good old school Rock and Americana.
Photo by mirifoto
Kris Deelane and the Hurt
This nine-piece Motown/Soul band is just plain crazy, sweaty fun!
photo by mirifoto
FOREVER JUNE IS A DUO FEATURING THE FABULOUS LINDA B ON VOCALS AND MYSELF ON GUITAR. WE PLAY AN ECLECTIC MIX OF BLUES, POP AND ROCK. SOME STUFF YOU'VE PROBABLY HEARD BEFORE AND SOME YOU MAY NOT HAVE. BUT IT'S ALL A LOT OF FUN TO PLAY.
Started on a lark back in '97, this nine-piece Pink Floyd extravaganza just keeps going. It helps that we tend to only play a couple of shows a year. It's always a great time and we have a killer crew of sound and lighting folks that put us over the top!
photo by Carlton Ward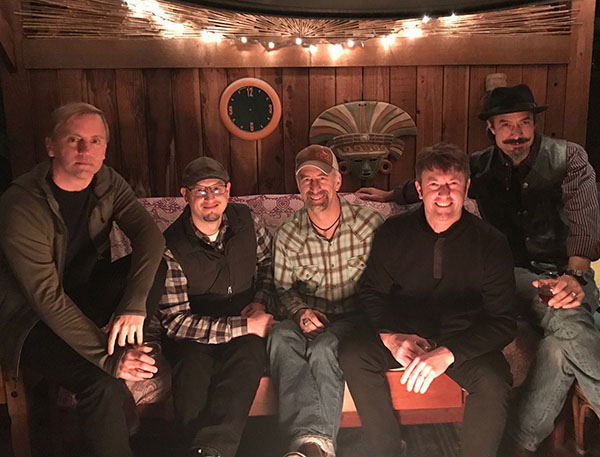 This band's heyday was the mid 90s to the early 2000s but we still get together once in awhile to bust out those great old tunes. It's a mix of acoustic based rock and americana with some great harmonies over the top.
Bart Ferguson and the Edward Stanley Band
After Kerosene Dream's original run, Bart put his own band together. I eventually joined up and we've playing now for many years. Another great mix of original songs and good rockin' covers makes it a party every time!